One-Year Warranty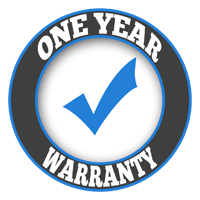 We include a comprehensive one-year warranty for all appliance repairs — just in case something goes wrong. We understand the importance of using original, quality parts and standing behind your work.
Appliances are built in such a way that individual parts depend on each other to function properly. Given this reality, in some cases multiple parts may fail at once — and to make things even more difficult, some parts cannot be tested in isolation. As a result, a small percentage of repairs may require a second visit to get everything running properly.
If your appliance requires a second visit, or if you have any issues with your appliance within one year of our servicing it, we've got you covered:
All appliance repairs are covered by a full one-year warranty. If the your appliance fails again within this period, we'll make another trip and cover any associated labor costs. For warranty calls occurring more than 30 days from the original date of service, we apply a flat $59.95 fee.
We will use original factory parts whenever they are available. In the case that the original part is no longer available, we will seek the highest quality aftermarket parts available. All parts are covered by manufacturer warranties.
Our business depends on repeat and referral business, so your satisfaction is our top priority. If you experience any problems with our repairs, please let us know. We hope to build a relationship with our customers as a trusted source for appliance repairs.
Experiencing problems after one of our repairs? You can reach us by phone at (770) 809-1055 — or e-mail us and we'll do our best to resolve any issues to your satisfaction.